Shopping Finest Organic Tea
THE TEA HERZ
We curate a variety selection of famous organic Teas from remote Mountains of some the most famous Tea areas worldwide. We love the rich fragrance of healthy and organically grown Teas and are happy to help you find your personal favourite.
The tasty fragrance of good Tea brings joy and relieves stress. Celebrating the process of brewing and drinking tea is not just a tradition – its a part of everyday life of generations and cultures across the world.
The best Tea in the World
organic tea
We Select Organic Tea For Healthy Enjoyment
Since more than 10 Years we concentrate on sourcing the best organic tea types from the high mountains of Taiwan, China, Ceylon and Darjeeling in India. We specify on just a handful of tea strains – bringing you certain world class quality, best flavour and rich fragrances.
Spreading the benefits of a healthy Tea culture and philosophy. 
Pouchong Coconut Fujian China
Pouchong Coconut Fujian China grown in the WuYi mountains in Fujuan province, this fruity tea that has a floral fragrance with a sweet finish. Containing pure coconut extract is comes with a smooth and buttery taste. It brings an eleganty delicate experience because of its unique combination of naturals flavours. Pouchong Tea is USDA organic.
Darjeeling Organic West Bengal India
An USDA organic Darjeeling Tea grown in the jungly mountains of Darjeeling. Biodynamically grown with natural notes of nut, fruit, sweet muscatel and chestnut. This specific type is an autumnal pick black Tea. Not without reason to be called the Champagne of Teas. An exotic black tea experience bringing you the natural flavours of Indian Tea.
Golden Moon Masala Chai Assam India
This is a uniquely mixed USDA organic Himalayan Masala Tea. All of its ingredients are naturally organic. It contains cardamon, cinnamon, Sri Lankan cloves, Chinese ginger, Vietnamese peppercorn and black tea. Its authentic Indian style Chai fragrance is based on the famous black tea from Assam in exotic northern India.
Organically Healthy.
Beautifully Served
Tea is more than just a drink. It defines itself through its aroma, achieved by its right preparation with the right utensils and accesoires. The physical benefits are proved through history and cultural knowledge. Tea leaves are rich in vitamins, minerals and other nutrients, the plyphenols, theinee and many more.
Using clear mountain spring water in combination with each Tea's traditional brewing method, utensils and ceremony brings you the most joy – for your mind and your health.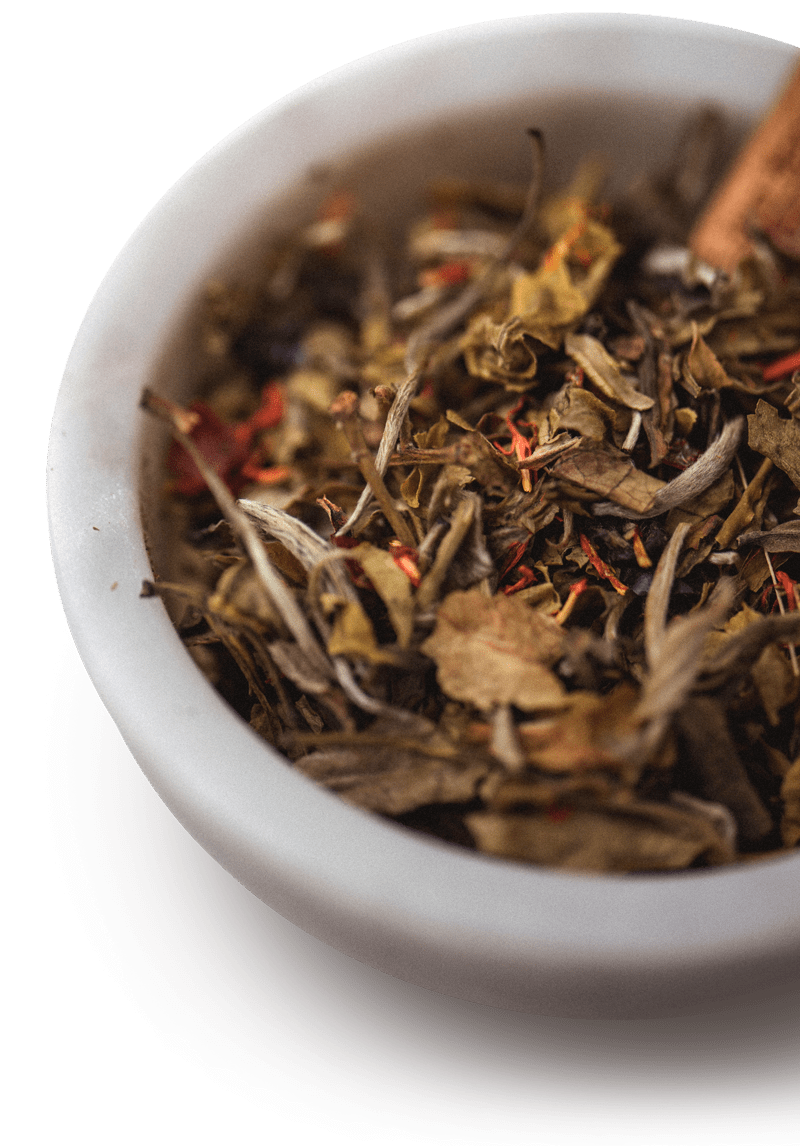 TeaHerz Finest Tea Selection
Taste our 3 personal favourite Teatypes
Milk Oolong Alishan Taiwan
The delicate Alishan milk Oolong acquires its light and creamy milky flavor in a natural processes. Its leaves are hand-rolled into small, green-yellow coloured balls. Leaves are manually harvested in spring and autumn, farmers exclusively collect top leaves with one bud. That special procedure creates the famous style and aroma of this Oolong Tea.
Orange Pekoe Ceylon Sri Lanka
Flowerly broken Orange Pekoe Ceylon Tea. 100% organic with an aromatic fruity flavour. We recommend to drink this tea straight. A premium loose leaf blend grown in the dry and cool mountains of Dimbula on Sri Lanka. Balanced, strong and refreshing black Tea with exquisite juicy aroma. This is one of our very favourite Teas on the Planet.
Gaba Oolong Alishan Taiwan
Partial oxidization gives this yellow Alishan Oolong Tea a golden honey like flavour. Grown in the deep mountains with opulent sunshine exposure - its where this tea strain gains its incomparable quality. Aroma of baked sweet potato taste and is proven to offer the drinker a relaxing stimulating feeling.
There aren't many people in this world who are not drinking Tea. It is an everyday habit to many cultures, not only in asia. A culture full of social and healthy benefits. It is a tradition worth to enhance. Spread your knowledge to the community.
Taste Us
see our favourite flavours
Support Us
spread the word of teas benefits 
Contact Us
nihao@teaherz.com